Despite being so comfortable with my BADgal thick pencil eyeliner from benefit (which retails at www.benefitcosmetics.co.uk for £14 and is totally worth it!) I decided that perhaps it was time for a change. Especially with the summer coming up, I could feel BADgal smudging into my crease-line in the heat of a warmer spring day, which as you can imagine was creating a rather odd panda-like effect which surprisingly enough is not what I was going for at all.
As an avid watcher of YouTube makeup tutorials, I realised that the latest trend in eyeliner seems to be the 'gel' formula which appears to have popped up in drugstore and high-end brands everywhere over the past year or so. Whilst watching Glee on 4od, for once I was actually paying attention to the adverts preceding it, one of which was the Maybelline ad featuring Jameela Jamil (TV presenter and columnist at my favourite easy-read magazine, Company). This advert showed a Maybelline makeup artist painting a thin line of Eyestudio Lasting Drama Gel Eyeliner 24H onto the upper lash line of a beautiful model and the finish was so precise, I just knew I had to try this product.
So during my most recent Boots online haul, I made sure to add one to my cart before paying, and I was thoroughly excited for my box of goodies to arrive. Finally, a gut-wrenchingly long three days later, my £80 worth of cosmetics were handed over to me in the post-room of my halls, which resulted in me actually leaping in excitement before running to my room to try this item immediately. I bought the colour Black to keep things simple. Before we get into that, let's take care of business...
Maybelline's Lasting Drama Gel Eyeliner which retails in at www.boots.co.uk for £7.99 claims to be...
'• [an] Oil-free formula [which] holds highly concentrated pigments in a clear gel base
• Smudge-proof and waterproof for 24 hours
• [the] Most intense line for lasting drama
• Safe for sensitive eyes and ophthalmologist-tested
• Contact lens safe'
at www.maybelline.com. And I completely agree with the whole claim, which rarely happens.
So, what's my general opinion? My first thought was, 'There really isn't a lot of it...' The pot isn't very big at all, then when you look a little closer, the frosted glass is extremely thick, so the product probably only fills half of the volume of the tub anyway. However, this is a product which I am proud to have on my dresser, as it just looks so sleek and sophisticated; it looks expensive (which it should, since £7.99 is not peanuts on a student's budget!)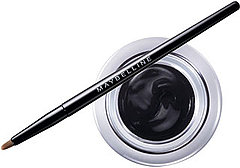 The brush which comes with the product impressed me a lot as it seems to be quite good quality! The bristles are very soft, cut perfectly for precise application of the perfect amount of liner, plus the black handle fits perfectly in between my spiky little fingers allowing me to draw it on almost as if it were simply a pencil dispersing an even coating of the formula as I go along.
Now, with the product itself I was generally happy. It's a very smooth jet black formula, which (with a little practise) can be swept on to professional effect. The practise is vital though, as at first I struggled with just how much I needed on the brush, as I found the finish much nicer if it was completed in one single line, rather than having to dip multiple times with a 'painting-by-numbers' method.
The product stayed put, and did not transfer to my crease or brow bone during a warmer day, which was basically why I bought it in the first place! It didn't crack and dry up like liquid liners do, but also didn't transfer (even to my pillow after a particularly heavy night, when I didn't see removing my makeup as an option before falling to sleep) as usually happens with creamier pencil formulas. On the other hand, when I swiped it off another night with a make-up wipe before jumping into bed, it shifted easily making for convenient removal. The brush appears to have held up at this stage, and I expect it and the liner to last for quite a while as I have hardly made a dent in the pot so far! Plus with three other colours due to debut soon, the idea of buying another brand of liner just doesn't make sense to me... The new colours will be something along the line of a grey-blue colour, a deep purple and a seductive brown, which I am particularly excited about as I think it will be lush for daytime!
Conclusion? I am a gel liner convert! This is perfect for day-to-day use and I honestly think I'm in on a great beauty secret... Feeling hopeful about (and I don't want to jinx it but...) being onto a potential Holy Grail product! If you haven't tried it, I promise it is worth the money and the time to get this right. Let me know what you think.
Take care
gabriellasofia