DO YOU GET IT??? 'CAN JUBILEE'VE IT?' AS IN, 'CAN YOU BELIEVE IT?' BUT WITH 'JUBILEE' INSTEAD OF 'YOU BELIE'. Genius.
Unless you've been living under some sort of rock for the past year or so, you'll be aware that the Queen of our nation has been sat on her throne (metaphorically speaking) for 60 whole years. Congratulations, Queenie! Good job!
However, with virtually no interest in politics or the monarch as a 'ruling' body, the outfits which our Queen has rocked over (and before) her 60 year reign have attracted my attention. Let's take a look at her style history, shall we?
In 1947 the then-Princess Elizabeth the Second announced her engagement to what was to become Prince Phillip, in a very pale pink dress with an asymmetric hemline, a slightly puffed sleeve and bow detail on the waist and shoulders. Of course, the length of the dress reached an appropriate just-past-the-knee length paired with a somewhat 'risque' peep-toe kitten heel. A simple string of pearls accessorized the outfit alongside a big huge smile which held the promise of the imminent happy marriage to come.
Later that same year, the Princess's pearls made a re-appearance at the Duchess of Buccleugh's dinner at the Caledonian Hotel in Edinburgh. This time, she paired them with a fairy-tale floor-length frock, with sheer, capped sleeves and elbow-length white gloves. So so classy.
In 1949 the Princess pushed the boundaries of fashion-for-royals appropriateness with a revealing off-the-shoulder gown in silver. The sleeves had ruched detail and once again, Elizabeth the Second sported her trade-mark pearls. I can't help but notice how awesome her eyebrows look in this picture, full and thick, yet groomed to perfection. So retro. The serious expression is down to the fact that this photo was taken for a royal portrait, I only wish she'd cracked that beautiful smile!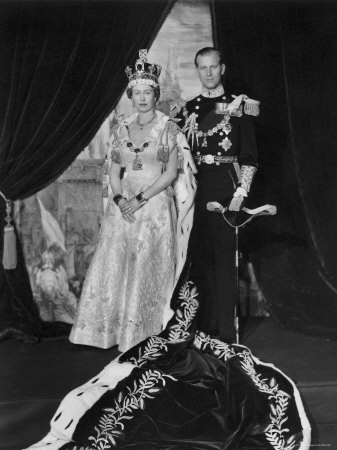 At the royal coronation in 1953, a whole year after Princess Elizabeth the Second's ascension to the throne, the now-Queen wore what must have been a very HEAVY thick-material floor-length gown, complete with gold rope details, a fur stole, an elaborate train, and the highly-symbolic crown of jewels atop her perfectly coiffed hair.
In 1959 the Queen attended a cocktail party at Windsor hosted by the 1st Battalion Irish Guards, in one of my favorite of her outfits to date! This mid-length lace dress with matching cropped jacket was in one of two colours which I think the Queen wears fantastically; lemon yellow. Now, I'm not positive (I'd have to ask her to confirm) but I do believe I recognize these white, kitten-heeled peep-toes from her engagement announcement picture! Looks like Princess Katherine isn't the only fashion repeater in the royal family! Not that I'm complaining, if it's not broken don't fix it, and these shoes obviously work.
A 1967 visit to Malta meant that the Queen could try out some of the more exotic trends of the time. This Hardy Amies double-breasted coat with a cute collar in a bold floral pattern looks fab. On her left shoulder, the Queen wore two diamond brooches and once again we see a glimpse of a pearl necklace peeking out from her collar. The real 'hit' of this outfit though has to be the perfectly matched floral hat! One has to be brave to sport such an 'out there' fashion item, no? Also, I think I'm going to have to buy some white gloves this year. They're just so chic.
Fast-forward to 1986 and we can see that the Queen's penchant for the Hardy Amies coat collection prevails, as she wore this hot pink option on a trip to New Zealand. White gloves, standard. Loving the match of the white gloves with the white hat and the hot pink flower with the coat. However, I must express my disappointment at the colour of the hand-bag and shoes... I'd much rather they'd been in white! Nonetheless, I do like the styles of both items especially the boxy bag.
At the 2011 Royal Wedding between Prince William and Kate Middleton the Queen wore lemon yellow like in 1959. The best thing about THIS outfit though (in my opinion) is the classic white handbag... I'm not quite sure where it's from but I want one. It reminds me a bit of something Chanel would make, so I'm just off to scour ebay for a vintage one... ciao for now.
Here we are in almost-present day, at the 2012 Epsom Derby of just yesterday, the Queen wore the one other colour which I believe she wears so well. Royal blue suits this lady to a T, and by pairing this beautiful coat with a sliver of floral material showing from beneath the coat, the Queen shows that the terrible weather isn't going to dampen her go-to summer preference for flowered outfits. The best accessory to this outfit has to be the genuine smile which Elizabeth the Second had permanently fixed on her face.
Classic, timeless and quintessentially British, the Queen of England has been a fashion icon for even longer than she's held her title! I hope that her reign continues for many more years of fashion history. Happy Diamond Jubiliee, Queenie!
Which is your favorite outfit the Queen has worn? Don't you think its funny that peep-toe and off-the-shoulder is considered controversial in royal fashion? Are you going to be purchasing some white gloves, pearls or funky hats for this spring/summer?
Love and snuggles
gabriellasofia
x