So long, farewell! I'm off to the East :)
I know I haven't posted much about my travels so far and my flight date has been creeping up on me much faster than I had expected, so I'm not going to be able to write too much before I head off. That being said, I figured I would just let you know what my itinerary is so that y'all can seethe in jealousy while I'm away :p Just joking! A little bit...
Anyway, here are my plans!
***
8th February - I fly to Delhi India... I'm booked on a 9am(ish) flight from Heathrow with Etihad. I've never flown with them before, so it should be an experience worth blogging about! I will be flying to Abu Dhabi first where I need to change onto my Delhi flight, hopefully everything will be signposted so I don't get too lost.
9th February - I will be arriving in Delhi at 3am(ish) their time. By the time I get through customs, get my bags and take the transfer to my hotel it will probably be about 5am meaning it will be about 11.30pm for me (if my calculations are correct...) so I will likely be exhausted. Having said that, if my experience in the USA is anything to go by, I will be buzzed on adrenalin and hungry, so I'm going to see what happens. If I'm awake enough I might go out for a stroll, but otherwise I might check into my hotel early, have a bit of a nap and then go for a mooch. My G Adventures tour begins on this day so I will meet the group in the evening and find out what the plan is for the next morning.
10th February - We'll be taking a train to Agra in the morning, which is pretty exciting as this is where the Taj Mahal is based! This is something that I have always wanted to see and learn about, so hopefully I will be able to cross that off my bucket list.
11th February - I'll be in Jaipur for the next few days. Jaipur is the biggest city in the state of Rajasthan. There are tons of tourist sites which I will have the opportunity to visit, including Hawa Mahal and the Amber Fort. I'm sure I'll see plenty on my orientation walk though. I might even see if there is anywhere to shop while I'm there, what with it being the capital city, maybe I can pick up some loose-fitting trousers because I'll need some for my explorations of the temples...
12th February - Still in Jaipur.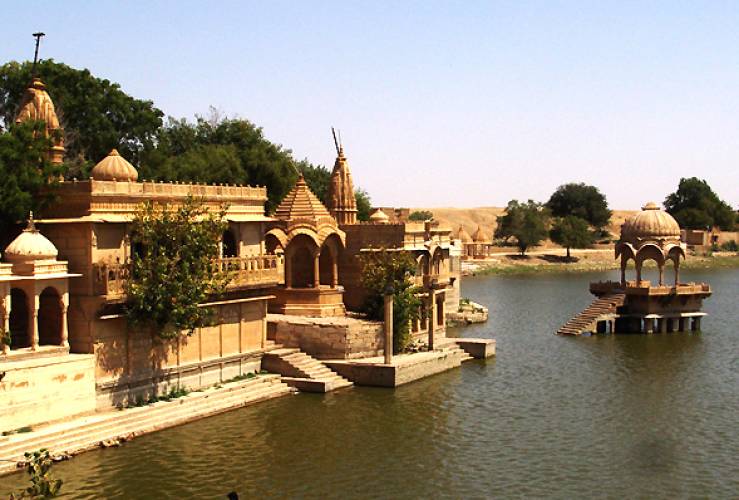 13th February - I will be heading into Tordi Sagar which seems to be quite a rural place. I hear that there are many opportunities to get to know the locals and visit cobblers, potters and markets. There will be the opportunity to take a camel ride to the dunes to watch the sunset, hike in the hills and try henna paint! This is the part which I think I am most excited about.
14th February - Today will be our first day in Pushkar. There will be an orientation walk so we can get to know the area, but generally it seems like our time will be free in Pushkar town apart from for meal times. One is planned for with a local family and another for on the dunes with entertainment. I hear that the sunrise is amazing from the Savitri Temple, but apparently it is quite a climb so I'm not sure how I'll fare so early in the morning... I must push myself.
15th February - Still in Pushkar.
16th February - I'll be arriving in Udaipur which is a popular tourist destination in India. Many people visit Udaipur for its lakes, palaces and lively work spaces and culture. Also, apparently tons of people go to Udaipur to get married, so maybe I can do a bit of wedding watching! We'll have an orientation walk and the opportunity to visit Lake Palace which was initially built as a summer palace but has since been converted into a 5* hotel.
17th February - Still in Udaipur.
18th February - Still in Udaipur.
19th February - En route to Mumbai, we will be stopping in Ahmedabad to visit Mahatma Ghandi's ashram which is a meditation place. When we arrive in Mumbai, we will be going on an orientation walk and soaking up the home of Bollywood! I'm really excited about Mumbai, although I'm not quite sure what to expect.
20th February - Still in Mumbai.
21st February - We will be taking the short flight to Goa, one of the most popular tourist destinations in India. My grandparents will actually be staying in Goa whilst I am there, so I'm hoping to stay a night or two with them. Our G Adventures guide will be taking us on an orientation walk of Old Goa, but really, for me, being in Goa will be all about relaxing on the beach, sampling the tasty cuisine and indulging in the rich nightlife.
22nd February - Still in Goa.
23rd February - Still in Goa.
24th February - Still in Goa.
25th February - I will be leaving Goa to fly to Delhi which will provide my connecting Air India flight to Bangkok in Thailand! My flight arrives in Bangkok at about 7pm and my boyfriend's flight from the UK lands at about 8pm, so I'm planning on hanging at the airport to wait for him before we get our airport transfer to our hotel. We might go out into the Thai evening to grab some green or red curry before catching some shut-eye.
26th February - We will be getting to know Thailand's capital Bangkok during the day with an orientation walk. There will be options to visit Wat Po and the Grand Palace and even have a Thai massage before hopping on what will be an overnight train to the Khao Sok national park.
27th February - At Khao Sok, we will be soaking up the natural beauty of the national park. I plan on doing a bit of hiking and a bit of swimming too because apparently there are lovely spots to chill out. I love national parks so much so expect a lot of photographs from there!
28th February - I'm so excited about Koh Samui! I hear such great things about this island and it seems to be really popular with 18-30's so I'm expecting big things. White sandy beaches, coral reefs and coconut trees, please. Apparently there will be watersports on offer, but I don't really like being underwater and my boyfriend isn't too keen of watersports too, so we'll probably be bypassing the snorkelling and just soaking up the rays on the beach and paddling in the ocean.
1st March - Still in Koh Samui.
2nd March - Me and my boyfriend will be able to have even more romantic paradise time on Koh Tao which is sometimes known as 'turtle island'. It is basically just another place to chill out and laze on the beach. EXACTLY what I'm need after all the travelling I'll be doing.
3rd March - This is my birthday! So I'm so excited to be on an island paradise for it :D We'll still be on Koh Tao.
4th March - Still in Koh Tao.
5th March - We will all be heading back to Bangkok for our flights home... but not before we have one more evening soaking up all the Bangkok has to offer!
6th March - Sadly, it will be time for me and Ben to fly home and wave goodbye to our first holiday as a couple. We'll be flying back to Heathrow with Etihad via Abu Dhabi and that will be that!
***
Have you ever been East before? Do you have any travel plans at the moment? Would you ever go backpacking alone?
Love and snuggles (and wish me luck!)
GabriellaSofia
ps. I will be periodically posting while I am away, but these are just scheduled posts, so please don't be upset if I don't reply to comments until I return. I'm not taking my laptop abroad with me.