Dear Santa Claus,
Thank you very much for my presents last year... I really enjoyed the X Factor concert with my mom and sister, I've used my hair curlers about a million times and I absolutely loved my dictaphone as I've used in many of my lectures to help me to take notes. I'm surprised that all of the university books you bought me didn't weigh down your sleigh! Hopefully it will all pay off in June which is when I should hopefully graduate.
I've been a really good girl this year. I've been working really hard at university and I've been very good to my family recently, as I've been living at home this semester and commuting to uni. I occasionally cook, wash the dishes, collect my sister from school, clean out the cats' litter tray and go to the Co-Op to fetch bits that my parents need. I promise I'll be just as good next year.
Of course, in return for my good behavior, I have a few things that I would like under the Christmas tree this year, if I may be so bold :)
Please could I have...
An Amazon Kindle
Kindle books...
Some benefit goodies... Especially 'they're real! mascara', 'chacha tint' and 'moon beam highlighter'
Trevor Sorbie Beautiful Volume Collection from Boots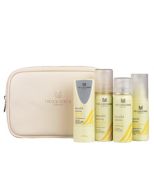 Books about starting up an online retail business...
Soap & Glory Goodies of ANY DESCRIPTION
Lush Goodies of ANY DESCRIPTION
Gold-looking jewelry from Forever21, Topshop, Miss Selfridge etc... Stud earrings, long hanging necklaces, big rings... Here are some examples but anything similar will do!
Subscriptions to any of the following magazines...
NAILS INC
!!! Anything, especially the magnetic polishes or this massive collection of minis...
A good quality eye make-up brush collection... This ones from
Sigma
would be perfect!
Santa, that's all I can think of right now, but I will be updating this list as and when I think of other present ideas. I know I won't get ALL of these things, but they're just some ideas. Perhaps you could hand this list over to my friends and family so they know what to get me too?
Thanks Santa, I really appreciate it. As usual, I will leave you a mince pie and glass of milk on the window sill at the top of the stairs. And some kidney beans for Rudolf... It seems he didn't like them last year as he left a very rude message on the plate (it said 'F*k You... he even spelt it wrong!) Beans are good for him though, so you should really try and encourage him to eat them (he doesn't want to end up on the naughty list, does he?)
Anyway, I'm super excited for Christmas day and I'll carry on being a good girl :)
Love as always
gabriellasofia
x