I think it's fair to say that the summer days are now well and truly behind us, and as the nights draw in the bitter cold means only one thing... Jack Frost will soon be nipping at our doors and we need to show him we mean business with a super-stylish, brand-new, current-season coat! But which one do we choose? The high street boasts a plethora of catwalk copycats in a range of prices, most of which really don't break the bank and those that do are so lush they're totally worth us scraping the bottom of our over-drafts for! Here are the coats I've been dreaming about recently...
The Detective-Chic Cape
I believe it's time for us to channel our inner-Sherlock this winter with an effortlessly cool cape-style throw-over. I've actually purchased this one a couple of weeks ago and it can be seen in my most recent
Haul Video
. This
Dorothy Perkins
coat which retails at £69 is made of a thick black wool-cotton mix (perfect for those chillier evenings). Having said that, the fact that there aren't specific arm holes means that the occasional breeze can result in goosebumps, not to mention it can be quite difficult to carry a handbag... I usually wear it when I don't have many other things to carry, or if I can wear a small cross-body bag. It's really cool though, and tons of people look at me when I'm wearing it! I especially love the sheepskin hood detail and the brown fastenings around the neck. I feel a bit like a movie star in disguise in this! Definitely a vital purchase for the season!
The Teddy Boy(friend) Blazer-Style
I love the style of this masculine tweed coat. It will set you back £85 in
Topshop
but the fabric feels so luxurious that I would totally be prepared to push the boat out... if there wasn't four other coat styles this season that I'm crushing on! Plus, I kind of feel a little like I'm too short to pull off a coat like this as its length hits just between your butt and the back of your knee... Not sure I could wear it without heels which automatically makes it less versatile than some of the other coats in this list. And yet, it's just so chic and snuggly-looking (just like wearing your boyfriend's coat on a chilly night because he loves you SO MUCH that you're worth him shivering throughout the New Year's Eve fireworks) that it might be worth having to wear a pair of super-sexy killer heels... I think so! Might have to put it on my Christmas list. And go to some New Year's Eve fireworks :)
The Glamorous Hollywood Faux-Fur
I've always been a massive fan of faux-fur coats (one of my favorite winter fashion items is a leopard-print faux-fur coat from
H&M
... I've had it for three years and I'm NEVER getting rid of it!) but this year there's something different. Leopard spots have been switched for dalmatian spots a la
Topshop
Unique and Cruella de Vil and I'm preparing myself for the fact that I may have to pass over my previously fave faux!
River Island's
version is perfect and looks just as great over a pair of black skinnies and flats as it does with a body-con dress and platforms, and at only £60 I really have no excuse not to buy this cosy, comfy, cute coat.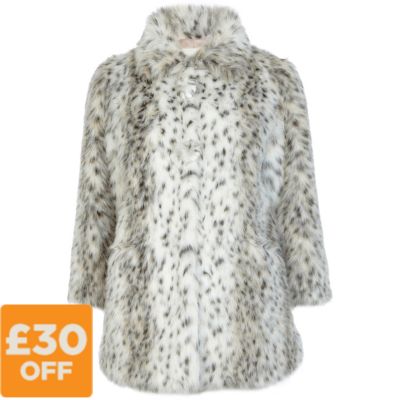 The 70's Tan Sheepskin
Honestly, at first I totally didn't get the whole shapeless-coat-with-extra-sheepskin-padding-in-a-dull-suede-tan-colour. That is until I spotted this bad boy on
ASOS
! I love the toggle fastenings and the pocket details add something special too. Plus, whilst maintaining the 70's straight shape, there is a little cinch at the waist which would work well for people with a bigger bust like me, wishing to be forgiven a few too many mince pies! At only £65
Vero Moda
have a potential buyer in me... especially now
ASOS
offer a 10% NUS Extra student discount.
The Nerd-Girl Duffel
This has to be the best value coat of the bunch... currently on sale in
Miss Selfridge
for just £42 this mustard-coloured duffel would look PERFECT with my university satchel and boots. Not only a warm and 'practical' coat that even granny would approve of, this coat is a very striking colour and really works the scholar-yet-chic look (one which I'm totally going for this year... it's the final year of my degree after all!) Don't have time to rave much more about how much I love this coat as I need to snap it up immediately!
So what will you be using to stay warm this winter? Have you been intelligent and lucky enough to purchase any of the coats featured in this blog? I might have to hunt you down and steal it because of jealousy...
Let me know what you think and be sure to tell me if I've missed out any majorly beautiful coat styles which are IT for this Autumn/Winter!
Love as always
gabriellasofia
x