As MASSIVE Les Miserables enthusiasts, my father and I were so excited when we heard that the longest lasting musical from the West End would be adapted by Hollywood for a film a few years ago. We clung onto every rumour about the cast list and watched every documentary about the movie in the run up to the film's release on the 11th of January 2013. I even bought my Dad cinema vouchers for Christmas! We set up the Daddy-Daughter date, bought the tickets and packed the left-over Christmas chocolate into my (not-so-inconspicuous) rucksack and headed to our local Vue cinema.
Although we knew what to expect in some ways, we were also a little apprehensive in others... Most of the cast list aren't globally renowned for having the amazingly semi-operatic singing voices which many of the roles required, so we expected that the music-side of the film might be somewhat disappointing. In some ways, we were right. Hugh Jackman as Jean Valjean, (the main character, a fugitive from the law since stealing a loaf of bread to feed his nephew) for example, LOOKED the part. Seriously, his look was SO Jean Valjean. However, the powerful voice which we had come to expect from watching the likes of Alfie Boe and Colm Wilkinson playing the part, just simply wasn't there. Instead, we got a much more raw emotional performance which did redeem the actor in some ways. Having said that, it could be argued that the rawness came not from the actor himself, but from the director, Tom Hooper, who insisted that each part would be sang live throughout the movie, bar one.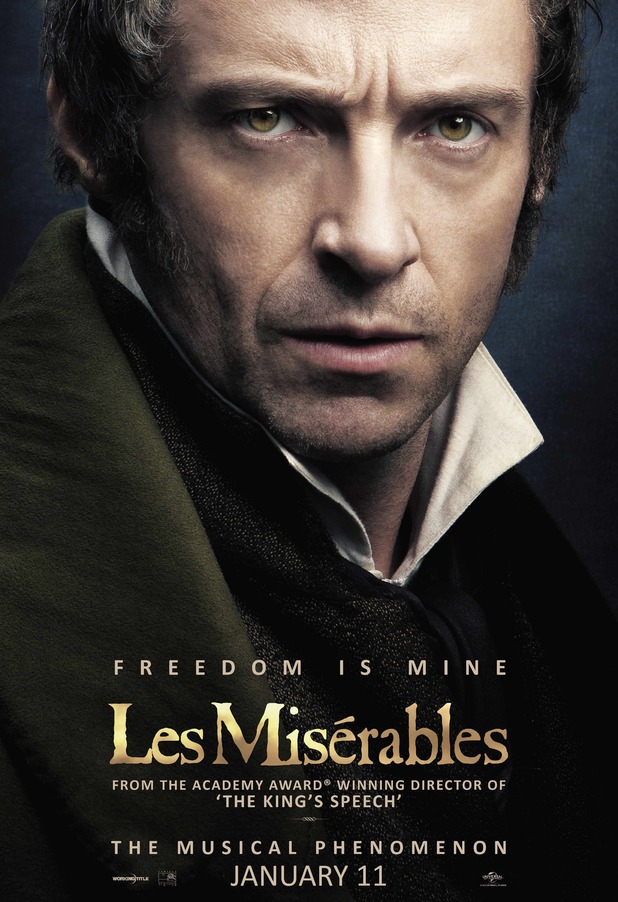 This technique seemed to work particularly well for Anne Hathaway during her show-stopping number I Dreamed A Dream. The finished piece was filmed in just one take and was everything it should have been. It was ugly, and real and fully epitomised the painful disappointment which her character Fantine really had in life (having been left a single mother, sacked from her job and forced to sell her hair, teeth and body on the streets of Paris.) Her performance was good, without a double. But once again, I do tend to prefer the more on-point operatic versions of the song which I have heard. Kudos to her on such a hard part to play though... Fantine's character really is the most miserable of The Miserables!
Russell Crowe who played Inspector Javert (the character who chases Jean Valjean for his entire life after he breaks parole) was horrifically disappointing to me. I was really excited when I heard he would be playing the role as I felt that he looked like Javert. I mean, he looked like I imagine Javert to look like when I eliminate all memory of previous stage-Javerts. And yet, the humiliation in not recognizing Valjean years later, the determination to find the escaped convict and the ultimate depression which drives him to deliberately fall to his death didn't come across strong enough from his vocal chords. In fact, I whispered to my dad that when he was singing it sounded like a yawn. Also, during the first song, Look Down, it was almost as if he was consistently a few beats behind... I'm sure this was deliberate as they wouldn't have included it otherwise, but I really wasn't a fan. He seemed to step up his game during my favorite song of the show, One Day More, but reverted to a half-hearted performance for the final half of his performance. My favorite Javert of all time has to be Norm Lewis. Search him on Youtube!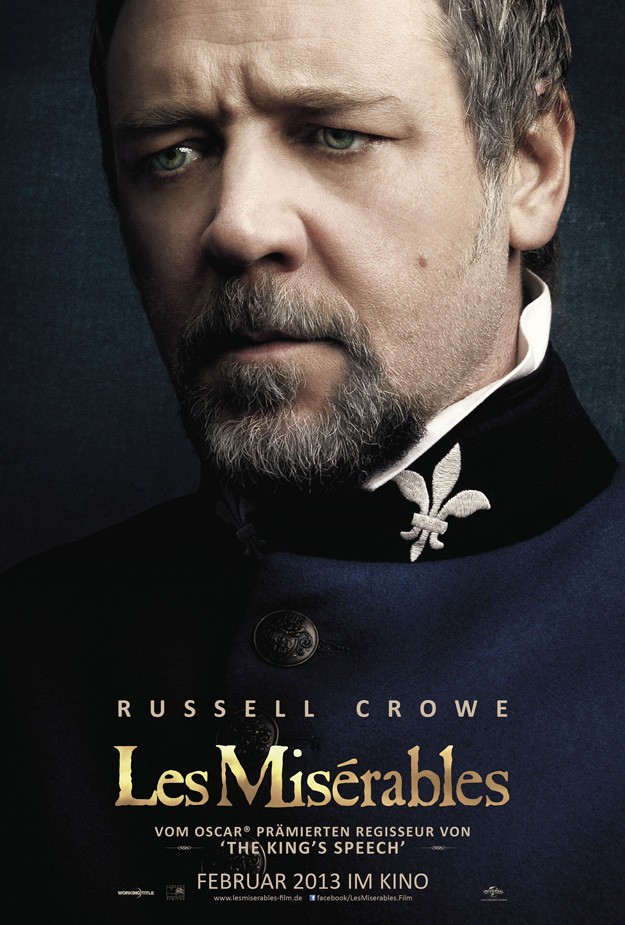 It wasn't all bad though! Not by a long way! I have to commend the younger cast for their performances. Eddie Redmayne made his lovesick sap of a character, Marius, relatable and passionate, in a way that I have never seen before. His performance of Empty Chairs at Empty Tables in particular was a massively pleasant surprise as this is a song which I usually doze off during and yet I was on the edge of my seat throughout, feeling his sadness at the loss of his friends.
Amanda Seyfried was an amazing casting choice for the object of Marius's affections, Cosette. Once again, she looks exactly as I've always imagined the character to look. However, I was a little nervous for her in terms of the remarkably high notes which are required by the role... even the boldest sopranos have been known to cringe away from the part due to the easily-screeched top note at the end of the romantic trio A Heart Full Of Love. Amanda Seyfried absolutely smashed it. There are no words... seriously, she was... wow. She IS Cosette. No doubt.
One of my top three most anticipated characters was that of Eponine by Samantha Barks. This is a role which Samantha Barks (who started her acting career on BBC's I'd Do Anything... she was passed over by Sir Andrew Lloyd Webber for Jodie Pringer for the role of Oliver!'s Nancy... BIG MISTAKE Andy!) has played effortlessly on the West End. She even held the role during the 25th Anniversary performance which I have become accustomed to being the pinnacle of Les Mis so far. As you can expect, I was so excited to hear Samantha Barks belting out her solo piece On My Own (she is in love with Marius, he is in love with Cosette... it's all so traj...) However, I felt that she was really holding back. I'm sure that those who haven't seen her performing on stage wouldn't know any different and would still commend her performance, but as she was one of the only musical theatre actors on the whole film, I wonder if the director told her to pull it back a little so she wouldn't outshine the other cast members. After all, although the film is a musical, I felt a big point was made throughout of NOT making it about the singing. This may have saved the film actually, as if they had tried to make it about the singing the casting choices would for the most part have been a huge disaster.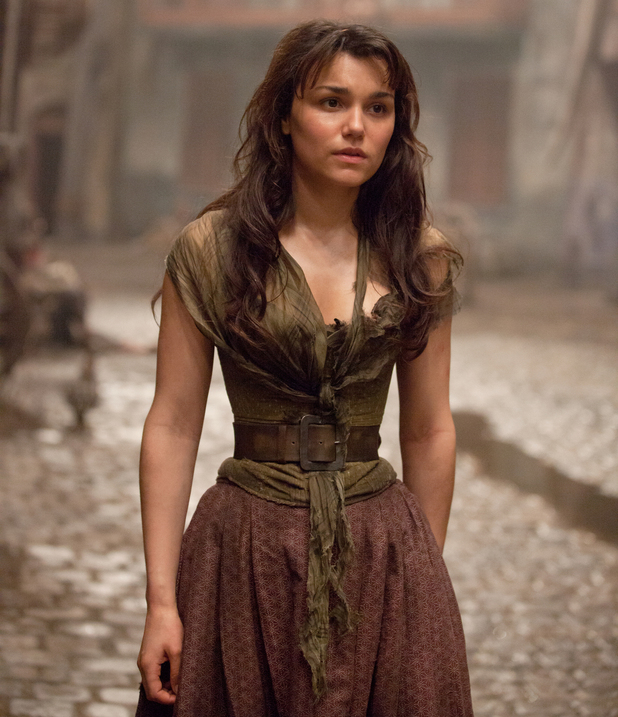 *Must I be the one to comment on the elephant in the room??? Is it just me, or is Barks, really, really, thin?*
Commendable performances go to the two main child-performers in the show, Daniel Huttlestone as Gavroche a child hero during the revolution and Isabelle Allen who plays the child Cosette, were very professional and really can't be faulted. Allen's performance of Castle on A Cloud was especially heart-felt and I definitely just wanted to give her a cuddle the whole time!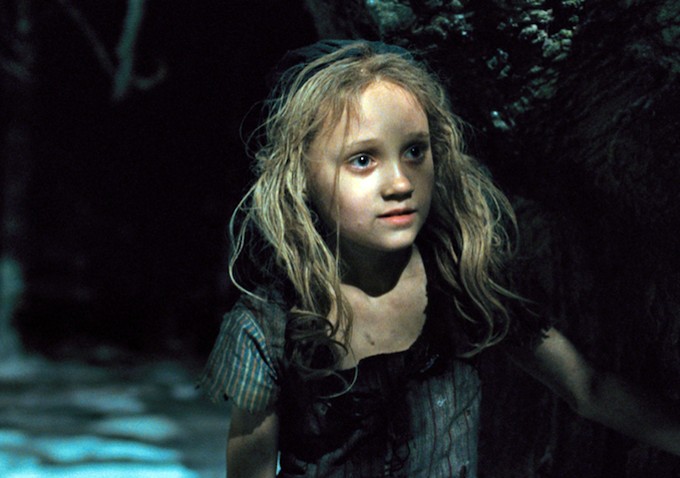 Now, two of my favorite actors, Sacha Baron Cohen and Helena Bonham Carter offered the comic relief of the film as the Thernadier's (owners of an inn and just general low-lifes who fostered the child Cosette). I was so anxious to watch them and luckily my high hopes were not misplaced. They were literally hilarious, both bringing their own styles to the performance, and really emerging from what are generally quite small parts in the grand scheme of things as some of the strongest performers of the film. I would LOVE to see more from these two as a comic pair in the future... Tim Burton will have to throw something together and get Johnny involved (as usual) as I'm sure it would be a total hit after their screen joint-debut in Les Miserables.
Another couple of characters of note would be Gossip Girl's Aaron Tveit as the dedicated-to-the-revolution Enjolras and the West End stage original Jean Valjean Colm Wilkinson as the Bishop who offers Valjean shelter in his darkest hour. Tveit is another character who performed amongst the strongest and it was such a nice touch to have Wilkinson return to the musical, I was so excited when I recognized his face, although he too seemed to be holding back his voice for the lesser-talented-in-singing Hollywood cast.
*Ooof. Nom. Gobble.*
I know it seems like I've been REALLY critical, but to give you a taster of why, compare these two videos...
*The standard I am used to...*
In all, I think Les Miserables film was fantastic, and I would recommend it to anyone. Especially if you are aiming to be more cultured in the New Year as the history behind the plot is really fascinating in its own way. If you have seen Les Mis live though, I would suggest trying as hard as possible not to compare the film to the musical, as you will find yourself scrutinising every word (as I am guilty of doing) throughout! Just sit back, take it for what it is and enjoy!
Have you seen Les Miserables? Had you heard much about the musical before Hollywood adopted it? Who was the stand-out actor in the film for you?
Love and snuggles
GabriellaSofia
x